Domains for Moscow Were Presented at the XII Inter-industry Forum on Intellectual Property
February 29 to March 1, Moscow hosted the XII Inter-industry Forum on Intellectual Property. It is the only independent event on this issue in Moscow, a unique and time-tested platform for professionals. It was the first time when all intellectual property issues were discussed together at the same time – individualization (trademarks as well), copyrights, invention right, etc. Infor-media organized the event.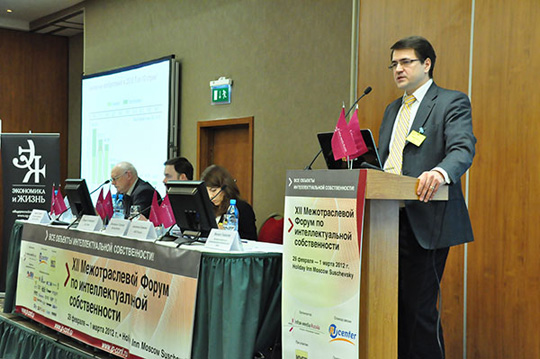 In the section named "Protection of individualization. Current Issues", sponsored by the national domain name registrar RU-CENTER, such issues as domain name disputes and measures to ensure priority of trademark owners and other means of individualization during the implementation of new generic top-level domains as a part of ICANN New gTLD Programme were discussed. In addition, the concept for registration priority for .MOSCOW and .МОСКВА TLDs was announced.
In September 2010, RU-CENTER initiated the top-level domains introduction. Today the project is being realized in partnership with RU-CENTER by the Foundation for Assistance for Internet Technologies and Infrastructure Development.
Andrey Vorobyev, RU-CENTER Director for PR and GR, told the audience about main rights protection mechanisms in New gTLD process:
Formal objection to ICANN (it can be filed at the stage of initial evaluation of a TLD application if a trademark owner considers that the domain is confusingly similar the trademark belonging to him);
Trademark Clearinghouse (single database containing the information about the protected trademarks and their owners);
Trademark Claims Mechanism (used at the initial stage of launch of registration in a TLD and applies if a user attempts to register a domain name, confusingly similar to those from Trademark Clearinghouse);
Post-Delegation Dispute Resolution Procedure (PPDRP) - sanctions mechanism against TLD registries violating interests of the trademark owners;
Uniform Rapid Suspension Procedure (URS) - rapid domain dispute resolution procedure involving domain name owners;
Sunrise period as initial stage of domain names registration in all new top-level domains – a special period during which trademarks owners may apply for domain names on a priority basis.
According to analysts, the priority registration period for .MOSCOW and .МОСКВА TLDs will take not longer than 3 months and about 10,000 domain names are going to be registered during this period. In comparison, 18,000 Cyrillic .РФ domain names were registered during the priority registration period that lasted almost the whole year.
All the participants of the XII Inter-industry Forum on Intellectual Property found it helpful. Especially the importance of discussions was emphasized, as well as the opportunity to share the experience with colleagues, hear interesting tips, practical cases from representatives of big companies operating on Russian market.
English
20.03..12