.MOSCOW and .МОСКВА Featured in Domain Names Magazine
The recent issue of Domain Names Magazine is dedicated to the top-level domains .MOSCOW and .МОСКВА and the trends in the development of the new gTLD market in Russia and globally, as well as potential changes of the Internet.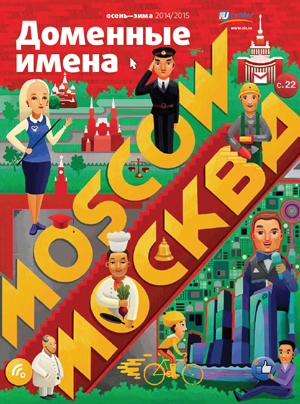 The issue's features cover the domain name registration in Moscow's TLDs and related nuances, the history of these domains and ways to use them, and so on. For example, there is information on registration periods in .MOSCOW and .МОСКВА, along with the key provisions from the policies.
"Domain name industry is not legally regulated in most countries, so we can say that the policies of .MOSCOW and .МОСКВА, which are based on the well-established principles (both Russian and international), do not include any provisions inconsistent with any national legislations," Domain Names Magazine quotes Maria Malysheva, head of legal department in the Technical Center of Internet.
There is an in-depth story about the implementation of this project, which was done with the help of RU-CENTER, one of the accredited registrars for .MOSCOW and .МОСКВА. Sunrise registration is also covered in detail.
"I think that the Sunrise registration procedure in .MOSCOW and .МОСКВА is pretty easy to understand. Both Russian registrars and users had a lot of experience with similar procedures during the past few years," says Anton Sergo, a Doctor of Laws and the president of the law firm "Internet and Law" (as quoted by Domain Names Magazine).
There is a lot of information about the Trademark Clearinghouse and protection of right holders and other types of users for whom there are special registration periods.
The new issue of the magazine will be presented at RIW 2014, which will be also attended by FAITID representatives.
English
24.10..14